Should we stay or should we go? On Thursday 23rd June Britain will decide whether it should leave or remain in the European Union. Over recent weeks we have heard many arguments from both sides of the campaign. Our holidays will cost more, our house values will plummet and thousands of jobs would be put at risk, or we would be billions of pounds better off, have full control over our borders and not be held back by the rules and regulations imposed on us from Brussels.

Whichever side of the debate you stand on it is clear that it is a big decision and one that will have an impact on education. So when it comes to Education what is the debate, and what are the views for those that want to leave and those that want to remain?
The debate
National governments are responsible for education but the EU promotes co-operation between member states
The EU plans to spend €80bn on research between 2014 and 2020 under the Horizon 2020 programme with a slice of this funding research here in the UK
Leave - Main views
Only 3% of total R&D spending in Britain is funded by the EU so we could continue to fund the vast majority of research projects already in progress
The UK will be able to increase funding to science out of savings from not paying for EU membership potentially leading to more research been conducted
Britain could set its own immigration policy which could fast track scientists and graduates making it easier to work and study in the UK
Remain - Main views
UK universities receive millions in research funding from the EU and without that could lose out on conducting valuable cutting edge research
85% of UK Higher Education Institutions received funding from the EU in 2014/15. Without this income stream universities would need to source revenue from other areas, potentially student fees
Many of the UK's top scientists come from elsewhere in Europe with the help of EU grants contributing to outstanding research in their fields
The Erasmus programme allows British students to study abroad across education, training, youth and sport
What would a Brexit mean for Higher Education?
Much of the debate around the EU referendum and higher education has been focused on research. This is understandable given the amount of UK research that is funded from EU sources – the UK benefits directly from £1.2 billion annually in European research funding. But what would be the impact of a Brexit on admissions to HE?
In 2015 29,300 accepted applicants arrived from the EU; an increase of 11% from the 2014 cycle. EU students make up 5.5% of the total accepted application population to full-time courses. However, there is significant variance by institution, with 25% of the annual intake at some institutions coming from the EU, bringing in an estimated £8M of tuition fee income per year.
Although the full implications of a Brexit remain unclear, it is not difficult to imagine the process for recruiting EU learners becoming more complex and closer to that already in place to recruit international students. This could lead to increased costs to recruit these students.
Changes to fee status, increases in tuition fees and removal of student support would probably impact on the attractiveness of UK HE to EU students. If the UK were to leave the EU, outward mobility programmes, such as Erasmus or international placements, would become harder to operate, potentially leading to a reduction in the number of UK students choosing to go abroad.
Universities UK, which represents university principals, has argued that membership of the 28-nation bloc has had an "overwhelmingly positive" impact on the standard of higher education and has helped to cement the strong global reputation of Britain's universities.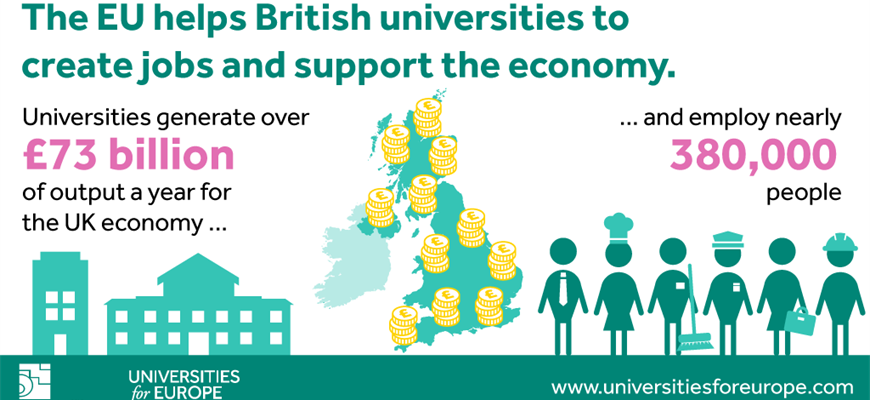 So strong arguments from the higher education sector to remain, however by leaving we would gain more control over how funding to science was distributed with the potential for more to be available from the savings of not paying EU membership.
What would a Brexit mean for Vocational Education?
Some questions still remain over what the impact will be on cash from the European Social Fund (ESF) if the UK votes to leave the European Union. What is the ESF? The ESF is cash that the UK receives, as a member state of the EU, to increase job opportunities and help people to improve their skill levels, particularly those who find it difficult to get work.
The current funding round, which runs from 2014 to 2020, is worth about £2.3bn across England. Projects delivered through the SFA focus on learning and skills, with a particular emphasis on young people who are not in education, employment or training (NEETs). A leave vote would lead to the UK no longer having access to ESF cash.
One expert in EU funding, said that "the people who would be losing out would be the people who need a lot of support, who have complex needs, who are battling all sorts of issues like homelessness, addiction, who are further away from the learning".
Food for thought on remaining in the EU, however some of the savings made by not paying EU membership could be allocated to the SFA to continue to fund the programmes already in place and possibly create more.
So, should we stay or should we go? Well that's a decision for each and every one of us to make for ourselves on the 23rd June. Education in the UK is going through a rapid period of reform, whatever the outcome of the EU referendum is, with area reviews and the apprenticeship levy in vocational education to the HE white paper and Teaching Excellence Framework in Higher Education.
You can find out more about the work we are already doing with our customers around area reviews, the apprenticeship levy and the TEF.